Welcome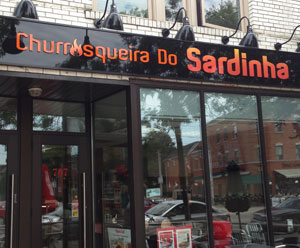 Churrasqueira do Sardinha brings the tradition and authenticity of an original churrasqueira coupled in a modern setting which lies at the heart of Toronto's thriving Little Italy district.
We specialize in BBQ and rotisserie chicken that is served with our delicious home-made spicy piri-piri sauce or our renowned mild/sweet sauce. We also prepare ribs, slow roasted pig and many other sought after traditional Portuguese dishes.
While our take-out is hugely popular, many of our customers enjoy taking in the lively College Street atmosphere while enjoying our tasty fare on our licensed patio or in our comfortable street-front dining area.
Each day, we feature a unique daily special that is sure to tempt your appetite and we specialize in catering events and parties. Contact us for more details!
Come in today and taste the tradition that is Churrasqueira do Sardinha!